Leukemia
Leukemia is a malignant disease (cancer) that originates in a cell in the marrow
Non-Hodgkin Lymphoma
Lymphoma is a general term for a group of cancers that originate in the lymphatic system
Hodgkin Lymphoma
Hodgkin lymphoma (also known as Hodgkin's disease) is a specialized form of lymphoma and represents about 12.5 percent of all lymphomas diagnosed each year
Myeloma
Myeloma is a cancer of plasma cells, a type of white blood cell found in many tissues of the body, but mainly in the marrow
Myelodysplastic Syndromes
Myelodysplastic syndromes are a group of diseases that originate in an early blood-forming cell in the marrow
Leukemia, cancer of the bone marrow and blood, is characterized by the uncontrolled growth of blood cells. There are four main types:
Acute myelogenous leukemia (AML) results from genetic damage to the DNA of developing cells in the bone marrow. Risk factors include exposure to radiation and benzene; chemotherapy used to treat breast or ovarian cancer and lymphomas; and genetic disorders such as Down syndrome.
Acute lymphocytic leukemia (ALL) results from an acquired genetic injury to the DNA of a single cell in the bone marrow. It is the most common form of the disease in children. Risk factors to children include exposures to infectious or toxic agents during fetal development or early childhood.
Chronic myelogenous leukemia (CML) results from an injury to the DNA of a stem cell in the marrow leading to the uncontrolled growth of white cells. Adults over the age of 30 represent 98 percent of the CML cases diagnosed. Risk factors include radiation.
Chronic lymphocytic leukemia (CLL) results from a malignant disorder involving a progressive accumulation of small, mature-appearing lymphocytes in blood lymph nodes, spleen and bone marrow. There seems to be no direct link to radiation, but this form of leukemia has been associated with farming and rubber manufacturing.
Leukemia, lymphoma, myeloma and myelodysplastic syndromes (MDS) are types of cancer that can affect the bone marrow, the blood cells, the lymph nodes and other parts of the lymphatic system.
General Blood Cancers
New Cases
Approximately every 3 minutes one person in the United States (US) is diagnosed with a blood cancer.
An estimated combined total of 178,520 people in the US are expected to be diagnosed with leukemia, lymphoma or myeloma in 2020.
New cases of leukemia, lymphoma and myeloma are expected to account for 9.9 percent of the estimated 1,806,590 new cancer cases diagnosed in the US in 2020.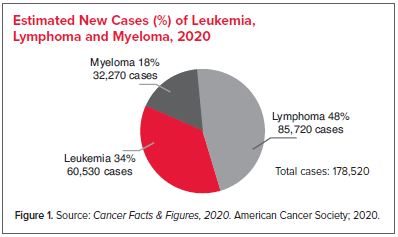 Prevalence
Prevalence is the estimated number of people alive on a certain date in a population who previously had a diagnosis of the disease. An estimated 1,297,027 people in the US are either living with, or are in remission from, leukemia, lymphoma or myeloma.
With the release of the 1975-2016 Cancer Statistics Review, the calculation of limited-duration prevalence estimates were modified to use data from the SEER 13 areas (not including the Alaska Natives Registry) using cases diagnosed from 1992 through 2015. Prior publications used data from the SEER 9 registries using cases diagnosed from 1975+. SEER 13 provides a larger population base and one which is more representative of the entire US, which allows better projections of US counts. Due to this methodology change, the estimates may differ significantly from those published in previous years.
Survival
Relative survival compares the survival rate of a person diagnosed with a disease to that of a person without the disease. The most recent survival data available may not fully represent the outcomes of all current therapies and, as a result, may underestimate survival to a small degree.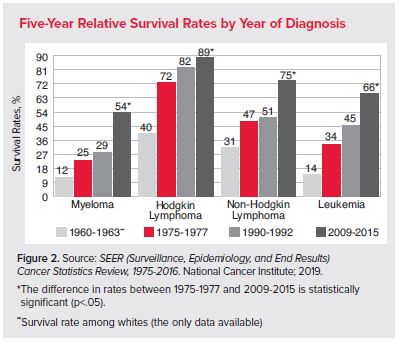 Deaths
Approximately every 9 minutes, someone in the US dies from a blood cancer. This statistic represents approximately 156 people each day or more than 6 people every hour.
Leukemia, lymphoma and myeloma are expected to cause the deaths of an estimated 56,840 people in the US in 2020.
These diseases are expected to account for 9.4 percent of the deaths from cancer in 2020, based on the estimated total of  606,520 cancer deaths.
*Data specified for "blood cancer" include leukemia, lymphoma and myeloma, and do not include data for myelodysplastic syndromes (MDS) or myeloproliferative neoplasms (MPNs)